Show Your Property At Its Best
Having pride of ownership will sell your property quicker . . .
When you put your property on the market, you want to achieve the best sales price you can get, and do so within the time-frame that meets your needs. Nothing is more important to most buyers than the first impressions they receive.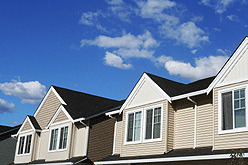 The most saleable properties are those that show pride of ownership, with attention given to every detail. If you are looking to sell your home in the near future, we hope this checklist will be of assistance.
Even if you're not planning to sell, it may be helpful as a checklist for spring cleaning or file away under "house papers" for future reference.
TEMPERATURE—Keep your home at a comfortable temperature. Air-conditioning is a must on warm days.
FRESH AIR—Keep air smelling fresh. Air freshener, candles or fresh flowers are nice, but don't over-do it.
LIGHT—Have sufficient lighting. If it's daytime, have draperies drawn open. In the evening, turn on the lights prior to showing. Light makes rooms look larger and more appealing.
MUSIC—Soft music can be nice, but loud radios, stereos, or television should be off during the buyers' inspection.
VALUABLES—Having valuable possessions displayed in your home is only inviting trouble. They're best placed out of sign, or out of the home.
EXCLUSIONS—Remove or replace items you do not intend to include in the sale. Sure enough, the one item that you wanted to take with you (such as a certain lighting fixture) is just the item the buyers want to include – causing a delay in the negotiation process.
TRASH REMOVAL—All trash and garbage should be removed from the home and garage. Open containers are unsightly as well as giving off odors.
PETS—Try to keep pets outside during a home inspection.
AGENTS—Turn your house over to the agent for showings. Trust their professional abilities. All showings should be scheduled and documented through the listing agent/office.
PEOPLE—While all prospective buyers must be accompanied through the home, family and guests should leave when possible to allow the agent to show the home without the buyer feeling hurried. Should you be present during the showing, remain in the background. The agent should know your property and the needs of the prospective buyer and be able to answer any questions.
DON'T APOLOGIZE—Remember not to apologize for the appearance of your home. If you've done the best you can, buyers understand that they may be viewing the home at a time that may be inconvenient to you.
PICK UP EVERYWHERE—Keep clutter off counter tops, disregard old newspapers and magazines, remove excess furniture
---
About United Country Real Estate
United Country Real Estate is the leading, fully integrated network of conventional and auction real estate professionals specializing in lifestyle and rural real estate. The company has been an innovator in real estate marketing since 1925, with a unique, comprehensive advertising program. This exclusive program includes the highest ranked and largest portfolios of specialty lifestyle property marketing websites, unequaled national print advertising, the largest internal real estate advertising agency, an extensive buyer database of more than 650,000 opt-in buyers and additional proprietary programs to advertise properties more broadly.
Done
Listing added to Favorites
Done
Listing removed from Favorites